Mandala
I have always been fascinated by mandalas. This word, which means "circle," is composed of the terms "manda," meaning "essence," and "la," which means "container." It comes from Sanskrit, an ancient and sacred language. It is one of the oldest Indo-European languages, even older than Latin and Greek. Sanskrit is used in particular as a liturgical language of Hinduism or Buddhism. It is also the language of yoga.
Various religions use mandalas in multiple ways. In Buddhism, for example, they represent the symbolism of the universe with its center and expansion. They serve as a support for meditation and facilitate concentration. Traditionally, mandalas are designed with sand of different colors by monks. It is an extremely meticulous work that can take weeks or even months to complete! So why make them with sand?
Dalai Lama: The Sacred Work of his Mandala
The Dalai Lama has envisioned a very complex model to promote peace in the world. When he visits a place, a sand mandala is prepared and offered to the event's hosts. At the end of the event, it is simply destroyed and the sand is collected, then thrown into the river to remind us that everything is ephemeral, just like life itself.
" No matter our accomplishments, our desires, and our troubles, we will all return to dust on the earth. "

Dalaï-Lama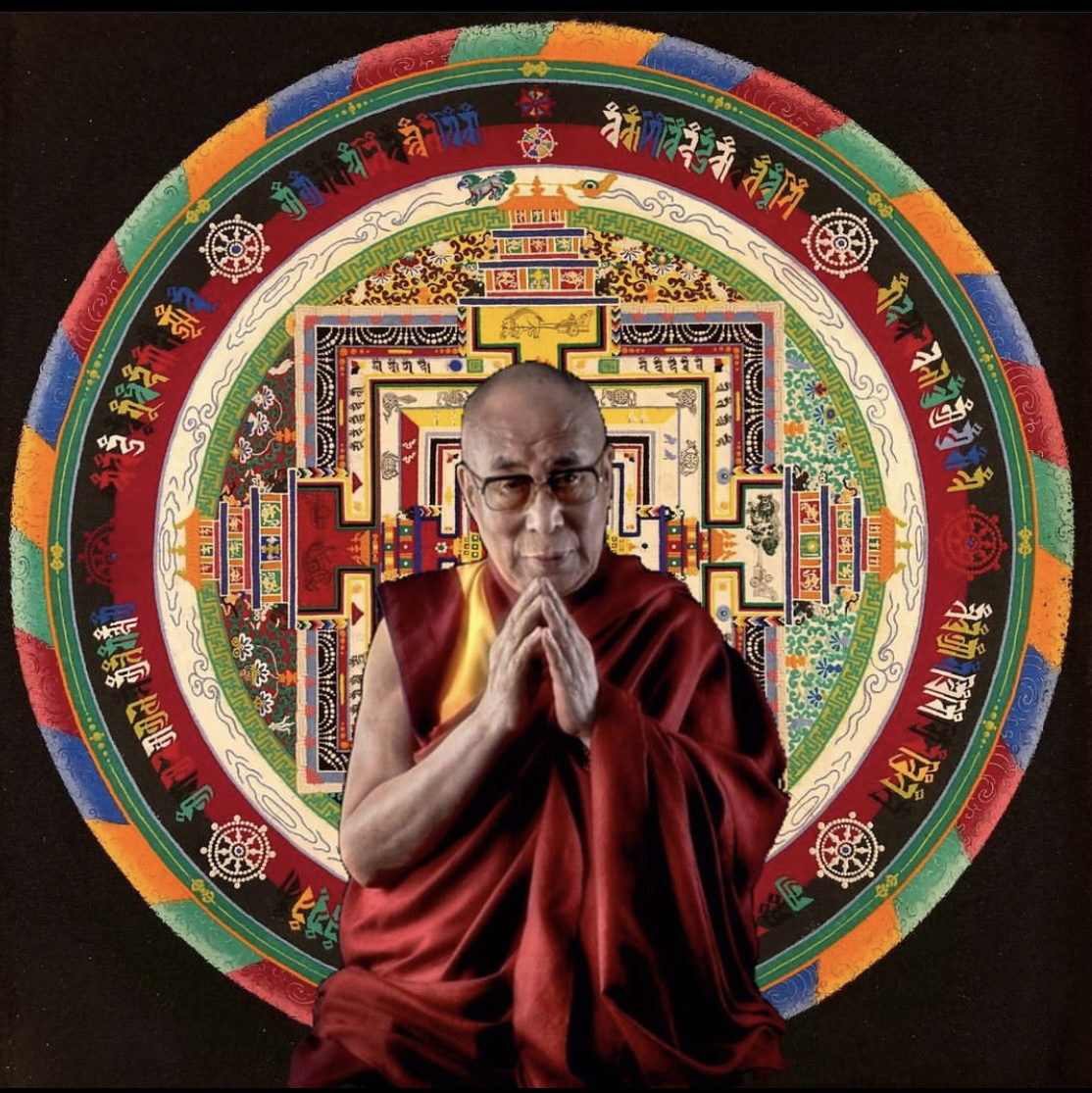 Apart from their usefulness, they are also incredible works of art! I love immersing myself in the details of a canvas, and these paintings are, to me, a reflection of perfection. The themes addressed by mandalas today can be endlessly modified. Although they usually have precise meanings, such as the sacred and the divine, they can represent fire, water, wind, luck, and many other specific elements. They are now adapted to modern life and can be designed without limits to the imagination! Coloring them, which is becoming increasingly popular, helps to connect to the present moment, relax, reduce stress, let go, and take a moment for yourslef.
A personalized and private training!
It was in 2016, while looking for a place to receive training in mandala creation, that I learned a little more about this powerful art and found myself on the website of the oldest Thangka painting Institute in Nepal! Since then, the idea of discovering this place has sprouted. Such a big and crazy dream! In 2020, I took the chance to write to the educational institution for more information.
Finally, in 2022, 6 years later, the dream comes true. In addition to the classic courses, which span several years, they offer workshops for tourists that can last a few hours or a few days, according to their convenience. You can learn how to draw a Buddha's head with acceptable proportions or reproduce a traditional mandala.
The rest exceeds all expectations. During my stay in Bhaktapur, I was taken under the protective wing of Dorje Lama, an adorable Tibetan monk, who guided me even though we didn't speak the same language. Throughout the days, I was able to create a traditional mandala, but with my own personal touch! The process is very challenging and it gave me the humility to understand that a lot of practice is needed to achieve good results. I was welcomed with so much love and kindness by the whole team that this experience will be engraved in my heart forever!
In short, Creating mandalas is a great way to align our head and our heart!